WILDLIFE ENCOUNTERS
We organise small group tours for the following:
- African Safari
- Gorillas Trekking
- Snorkelling with Humpback whales
This is what our customers have to say:
"For us it was the trip of a lifetime" - Brian&Lyn Pool
"My trip was well beyond expectation, truly one of those once in a lifetime experiences. Thanks Vanessa. Look forward to booking my next trip with you" - Sally Cornish
"I can't speak highly enough of Vanessa organisational skills and follow up , but it's her passion for the experience , nature and wild animal encounters that drives my choice to recommend Vanessa's travel experiences to anyone thinking of a unique wildlife adventure" - Karen Austin
​Scroll down for details and testimonials.
Email us at
contact@vanessamignon.com
with any enquiries
---

AFRICAN WILDLIFE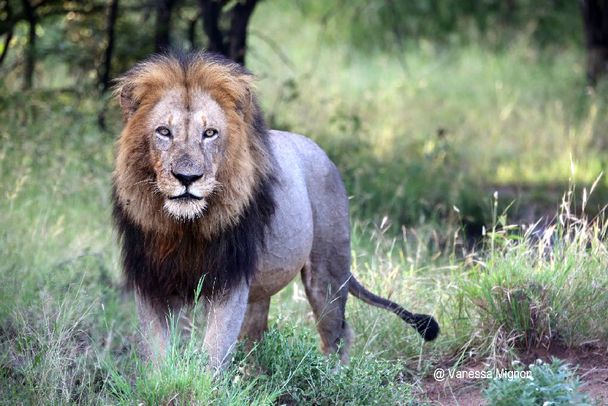 Africa is without doubt one of the most diverse locations for wildlife and landscape. From the raw beauty of the Namib desert to the rich, green rainforest of the Virungas in Rwanda, from the small colourful Namib web-footed gecko to the powerful elephant, Africa has it all and each day brings new discovery and knowledge.




---
---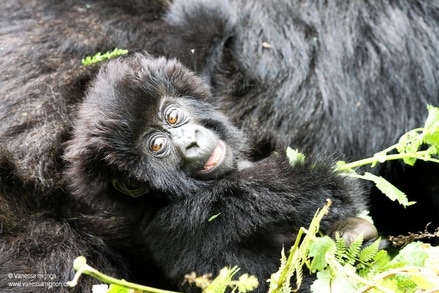 Join us on this unforgettable experience, where you will trek through dense and pristine vegetation, looking for a gorilla family.

Trips are custom made so you choose how many treks you would like to do.


---
---
WHALE SWIM TOURS: HUMPBACK WHALES






If you ever dreamed of close encounters with the majestic Humpback whale, now is your chance!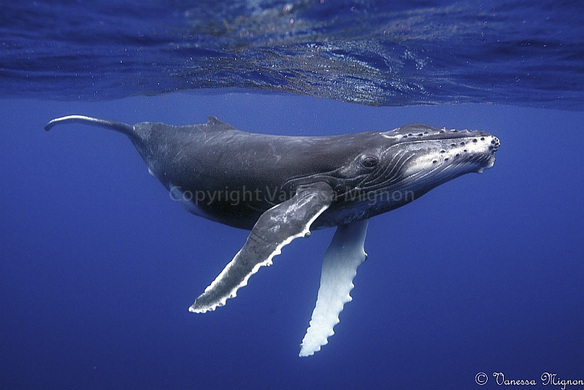 Each year, humpback whales travel thousands of kilometres from their feeding grounds in Antarctic waters to Tonga, north east of New Zealand, to give birth and mate.

From about mid July to mid October, it is possible to snorkel with them around tropical islands. No diving certification is required.




Humpbacks are known as the most acrobatic whale specie and with luck we can observe them breaching, tail slapping, and possibly spy hoping! . They are huge mammals which can grow up to 15 m and 45 tonnes. Despite their huge size, they are very graceful and gentle, which earned them the name of "gentle giants".
Humpback whales were nearly hunted to extinction and the Tongan population has not recovered as well as other populations (like the East Australian population).
Therefore it truly is a privilege to observe those whales in their mating and calving grounds in Tonga.


Our trips are usually 5 to 10 days long in order to maximise the guests' opportunity to swim and experience different whale behaviours, such as the nurturing mother and calf relation, the courting behaviour, the fast and furious "heat and run" and/or the beautiful and fascinating whale song. We usually limit our tours to 3 guests as the whale swimming guidelines only allows 4 people and the guide in the water with the whales at any time.


It is important to note that this is an open water activity with wild animals and therefore the encounters will be dependent on weather and the whale behaviour and circumstances. Therefore we can not guarantee that we will swim every day. If whale swimming is not possible we will still aim at observing them from the boat, learning about them and photographing them.
If the guests are interested we will also try and photograph their flukes, which are like our finger prints, and record their songs, as this data can be useful to researchers.



---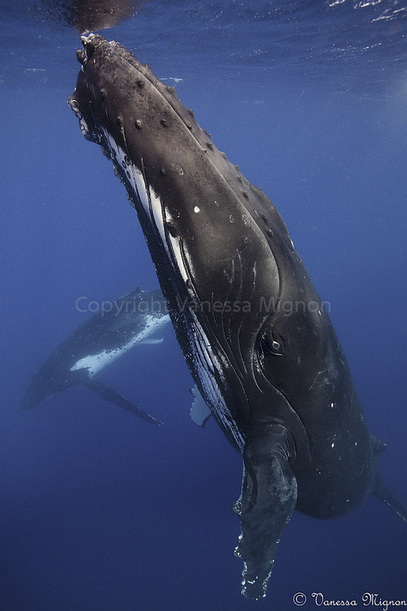 Please Note

- No diving certification required as we snorkel with the whales

- There is no guarantee that we will swim with whales. This activity is highly dependant on whale behaviour and weather. However joining a small group tour and allowing a few days on the water should increase your chances of swimming with whales and hopefully witness different behaviours such as mother and calf interaction, singing, breaching etc.

- Our tours focus on respecting the whales and their well being. The whales have travelled a very long way from Antartica to mate, give birth and nurse their babies. It's a privilege to see them and swim with them, not a right. Each swim will be on the whales terms. If a swim is not possible with a specific whale/group of whales, we will not push it and we will go and look for another whale.

- It is an open ocean activity. Usually you will not see the bottom of the ocean. Therefore it is important to be comfortable in the water and reasonably fit.

We will be happy to recommend accommodation and we can also organise customs made trips and fully inclusive packages. Over the years we have built great relationships with trusted operators and we will strive to advise you the best options.


---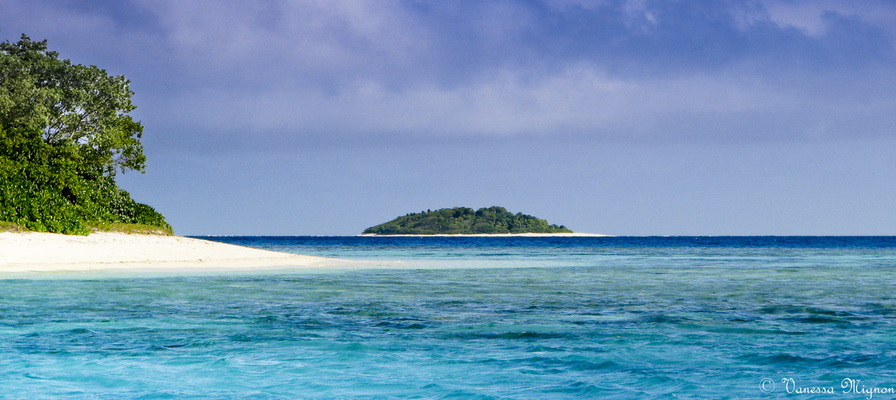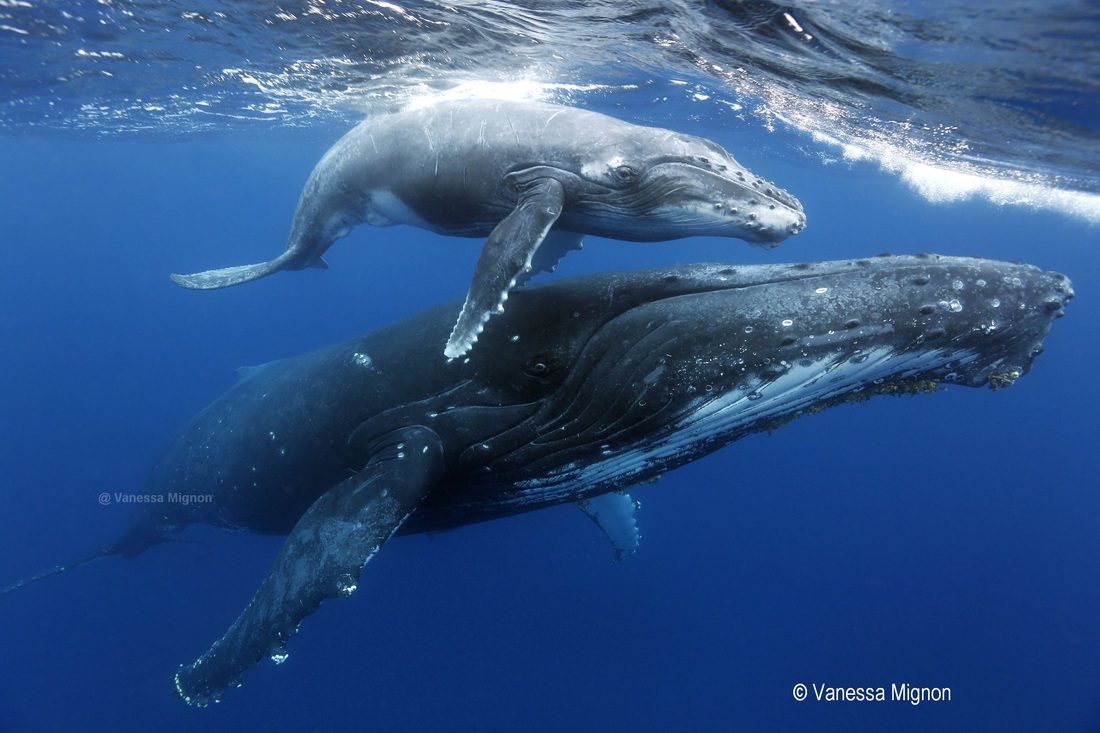 TESTIMONIALS


Sally Cornish (Australia)
I recently got back from my trip with Vanessa to swim alongside whales and WOW! I had booked the trip a couple of years in advance and the trip did not disappoint. Vanessa was fantastic, keeping us update on the trip, making sure we were well informed of any visa requirements what to pack and what to expect, however she didn't let on just how spectacular it would be. My trip was well beyond expectation, truly one of those once in a lifetime experiences. I felt so privileged being in the water with these amazing giants. There was only 2 other people in my group and due to the small size we were able to spend all our time in the water with the whales. The boat was great, the captain and our guide were outstanding. Truly an amazing trip I will cherish forever. Thanks Vanessa. Look forward to booking my next trip with you.
Lyn & Brian Pool (Australia) - 2017
My husband & I have recently returned from the most amazing trip to Africa with Vanessa Mignon Wildlife Tours & Photography. This trip was as epic as Africa.
Being our first visit to Rwanda, Kenya & Tanzania we felt more confident in not only having our trip organised by someone with local knowledge & experience but also having that someone travel with us.
Vanessa constantly ensured that the itinerary & travel plans were accurate & that we were kept well informed. She assisted us with flights, visas & advised us on all necessary requirements peculiar to Africa.
Our choice of accommodation was excellent & our driver/guides very experienced. Many times Vanessa went above & beyond to ensure our comfort. She is extremely thoughtful, kind & generous.
A small group tour also suited our requirements. It allowed for greater flexibility, more freedom & more time to spend on safari.
The choice of parks visited (Masai Mara, Serengetti, Ngorongoro Crater, Amboseli) fulfilled all expectations. This allowed us to experience the many different animals, (ie Amboseli is known for the elephants) the cultures & the contrasting landscapes.
If Africa is on your bucket list & you have limited time then this is the way to do it.
We would have absolutely no hesitation in recommending Vanessa both as a
travel companion & as a tour guide leader.
For us it was the trip of a lifetime.
Fabrice Guerin (France) - 2017
Joining Vanessa guarantees wonderful encounters on both the wildlife and human levels. I enjoyed her organisation skills and her advice. She is a genuine lover of nature that will share her passion with you.
Karen Austin (Australia) - 2014 and 2016
It's not every day that the adventures and experiences you dream about in your life become an reality – but that is exactly what happens when you join one of Vanessa's unique animal encounter journeys.
Whether its swimming with whales in Tonga , climbing the Rwandan mountains in search of mountain gorillas or 4 wheel driving the plains of the Masai Mara in search or the Big 5 , Vanessa's bespoke and unique adventures guarantee you a once in a life time experience.
Made seamless from start to end , there is never any doubt that the journey Vanessa has planned for you has been researched, considered and prepared with a very personal touch in mind. Focused on creating the most one on one animal encounters possible , it's all about knowing the right contacts and ensuring local knowledge and local support is close by.
When you travel with Vanessa you know she knows her stuff , almost as if she was one of the locals . Her insight into the regions she visits provide you with safe and knowledgeable travel guides, cost effective accommodation and ease of access to the adventure ahead, all ensuring your path to an up close and personal, once in a lifetime wildlife experience.
I
can't speak highly enough of Vanessa organisational skills and follow up , but it's her passion for the experience , nature and wild animal encounters that drives my choice to recommend Vanessa's travel experiences to anyone thinking of a unique wildlife adventure.
Greg Boland (Australia) - 2015 and 2016
I have been fortunate enough to have had two amazing Whale Swimming Trips with Vanessa Mignon & on both occasions I had incredible encounters that were truly beyond what I was expecting! Not only has Vanessa provided out of this world encounters with the whales, she also organized all the accommodation, Boats, Skippers, transportation etc. I believe Vanessa has the best contacts in the business and this is the key to being put in the correct place at the right time.
Vanessa also provided Itineraries that were tailored to my needs and her communication with me whilst organizing my trips was very professional.
I wouldn't hesitate to recommend Vanessa Mignon to anyone looking for that once in a lifetime trip.
Sally and Rik Walton (UK) - 2016
We joined Vanessa on a whale trip in 2016 and what a great decision it was! We received plenty of information beforehand and Vanessa was always quick to answer all our questions. The accommodation she suggested was perfect, and the crew on the boat were exceptional. We felt completely safe both in and out of the water and had many more great snorkels with the whales than we had expected. It definitely exceeded our hopes and dreams. In addition to all this Vanessa is great fun, and so the boat experience was full of laughter and excitement. She has a passion and enthusiasm for the whales and so you know that any trip she arranges will be ethical. We highly recommend her.
Bruce Jamieson (USA) - 2015
In the summer of 2015 I reached out to Vanessa to reserve a spot on one of her trips to Tonga to photograph the Humpback Whales. The correspondence with her was great and she was very knowledgeable about accommodations,flight time tables and other activities during my trip to Tonga. She was very timely to get back to me with specific questions that I had prior to my trip.
Upon my arrival I was met with Vanessa, she gave me an introduction to the culture of Tonga,where we will be going and things we would be seeing.
Vanessa makes the encounters optimal by limiting the size of the boat to 4:1. Being a photographer this was excellent. I had the most time in the water without having to get back to the boat to rotate with other people,which boat operators in Tonga have to do if the ratio is greater than 4:1.
The encounters we had were amazing! Vanessa really had experience with these beautiful creatures and it showed. We would approach the mom and calfs respectfully and quietly. If Vanessa sensed that we would create a problem with an encounter she would let the skipper know and we would go search somewhere else. She made it a priority to make sure that the whale was #1 and we would not disturb them if they didn't want to be disturbed.
I can say that some of the experiences on this trip will live with me for the rest of my life. We were very fortunate to have some of the encounters that we did. Vanessa said that one of the encounters we had were in her top 3 ever,which is saying something!
If you are looking to do a once in a lifetime trip to see humpback whales in Tonga I would not hesitate to book it with Vanessa Mignon. She has the experience and knowledge to make sure that the trip you are on will be one of the best of your life!!
You may want to hurry and book before I take your spot!
Karen Elton (UK) -2015
It was on a trip organised by Vanessa that I had one of the best wildlife encounters of my life – swimming with whales! It was such a privilege to be in the water with these magnificent creatures and we were so lucky to spend hours with one group of several whales as they were socialising, rolling around, totally at ease with our presence. I didn't even know such an experience existed until I met Vanessa.
One of the most reassuring things in going with Vanessa is the respect she has for the animals (and abundance of passion) which is apparent in the way the trips are run and in her choice of operator. Also the group size on the boat is small so you get maximum time in the water. In planning for the trip Vanessa was very flexible in accommodating my requests and providing accommodation options and on the trip she is very welcoming and easy going, giving you options in the evenings to join the group for dinners or do you own thing if you wished. Would highly recommend.
Colleen Nacson (Australia) - 2014, 2015, 2017 -whale trip
I joined Vanessa in 2014 hoping for a single good encounter with sperm whales. I left with memories beyond my wildest expectations. The holiday ticked all the boxes for me.
Vanessa put a lot of work and effort in the planning and execution of this wonderful experience and I am looking forward to joining her again on another sperm whales adventure
Colleen Nacson (Australia) - 2014 Gorilla trip
I have travelled to many destinations with Vanessa Mignon, all of which she has organized and led. On each occasion the tours have been very enjoyable and professional. In particular the trip to Rwanda, which was memorable because it was so well organized considering all the challenges one would expect in a underdeveloped location. I have no hesitation in recommending her to anyone interested in the organization of adventure travel.
Anastasia and Michael Valos - 2014 and 2015
I would like to say thank you for the wonderful experiences we have had on your Whale trips. On both occasions we have been very happy.
Although logistics for travel to remote places can be difficult, everything has gone very smoothly. This is because you made sure in advance, to plan the itinerary carefully, and to constantly keep us informed of any changes.
As a result, we have been to beautiful locations, and had amazing interactions with whales.
Your passion, respect, and dedication to animal welfare is also a very special quality.
Esther Grant (Australia) - 2014 Gorilla Trip
I had the fortune to be invited on a gorilla trip with a friend. What a fabulous holiday experience and well organised by Vanessa. It was great spending 4 days trekking in the mountains instead of just one- you can never spend enough time with these fabulous creatures.
The enthusiasm, and wildlife activism and education that Vanessa imparts as part of the tour made my partner and I also book her whale trip last year, which was also amazing.
Thank you so much Vanessa for your tireless work in making holidays stress free.
Marie-Claire Maurice-Jones and Mauricio Fernandez (Australia) - 2014
I would like to say a big thank you to Vanessa for such a wonderful vacation. Our trip to Tonga to swim with the whales was an experience of a lifetime. The whales were the most beautiful creatures and being able to spend time with them each day was nothing short of amazing. Thanks to Vanessa for her dedication to making our trip everything we ever dreamed of, and more. Right from the day we booked, Vanessa would send us all the information we needed in order to prepare for our vacation. Tonga is a beautiful country, but is still under developed in many ways, so one must expect a few challenges along the way when it comes to planning ahead. No challenge was too difficult for Vanessa who somehow miraculously managed to handle every situation without a hitch. Her endless knowledge and experience, as well as her dedication to the wellbeing of the whales and marine life, together with her genuine caring nature and dedication to ensuring we all had the most wonderful inspirational vacation ever leaves us forever grateful. Thanks so much Vanessa!! You're the best!!
Kerstin Meyer (Germany) - 2010, 2012, 2014
"Swimming with whales had been a long dream ... and thanks google and the Internet that it became true ... when I looked for a trip I realized that there are only two places in the world where you can swim with humpbacks ... one of them is Tonga ... for a German a long, long way and quite expensive ... but every cent and every minute worth ... when I did this trip, I thought I would do a once in a lifetime experience ... but I was wrong ... I get hooked and now I'm returning ..
Why? It's not so easy to explain ... there is some kind of magic if you are in the water with the whales ... I had 3 special and magical moments during my first trip: 1st: my first whale ... it was a young adult, floating at the surface, watching us ... eye in eye ... and than he dived ... I think you'll never forget your first whale ... a little bit like you never forget the first kiss ... 2nd: a singer ... the singing whale wasn't very deep and we could hear the sounds on the boat ... than we decided to go in the water ... and than we could feel the vibrations through the whole body ... that's some kind of magic ... 3rd: touched by a curious calf ... to be in such a very intimate and intense encounter ... one of the most impressive and emotional moments I ever had ... "
Gill and James Clark (Australia) - 2013
We joined Vanessa for an excellent whale trip to Hapaai in Tonga in 2013. The trip was wonderful in every way from organisation through to encounters. Vanessa is a master at finding operators who understand that the wellbeing of the wildlife you are trying to encounter is the first and foremost priority. It was a pleasure to be on a tailormade trip that was respectful to the wildlife and not the usual tourist trip where the welfare of the wildlife and environment get lost among the unreasonable demands of tourists. We will certainly be back for more.
Alison Miller (Australia) - 2013
It was a chance encounter with Vanessa that led me to Tonga with her in 2013 to swim with the humpback whales… An adventure that I will never forget. Being in the presence of such gentle giants is truly humbling!
I was most impressed with Vanessa's respect for the animals, ensuring that we followed the rules and courtesies of sharing their environment. She is so passionate and eager to share her valuable knowledge.
Vanessa is a kind and considerate guide, and her tours have a very personal feel. She was always willing to answer questions, was flexible to meet our concerns and always looking out for our safety when in the water. She definitely has a local presence in Tonga, knows the right people, and how to manage the operations of a tour. I'd recommend her to anyone.
Carlo Possagno (Australia) - 2013
I joined Vanessa on her Humpback Tour in Ha'apai, Tonga 2013
Not knowing exactly what to expect but with great expectations!
It was a mind blowing experience from the first time in the water to the last minute. It was truly mind Blowing
Vanessa had organised the trip of a life time including every possible little thing, nothing was forgotten, a credit to her.
She is very dedicated to her cause, and a total Professional.
We will dive together again.
Nicole Gerlach (Canada)"
I have travelled extensively for the past 20 years, and needless to say, swimming with the whales is the most incredible and awe inspiring experience that I've ever have. So much so, that I've done it twice!! My most recent tour was a 'birthday holiday extravaganza', which was made that much more special by Vanessa, who managed to organize a special lunch with cake and treats and must have 'whispered' it to the whales as we had an incredible swim that day, and also saw a 'heat run' the evening before- absolutely mind blowing! Being so close to these gentle giants is the most magical and humbling moments one an experience- once in a lifetime chance( or twice, in my case)!"
Geeske Huisman-Herweijer (Holland) - 2008
"Vanessa knows all about the humpback whales and how to have the best encounter with them. She is very dedicated and shows great respect for these wonderful whales. She is also a great underwater photographer, very sweet and helpful. My husband and I had a wonderful holiday, one we will never forget!"


All contents and images © Vanessa Mignon. All Rights Reserved